REVOLUTIONARY PUFFER JACKET WITH INNOVATIVE BEER-POWERED TECHNOLOGY SET TO 'COOL' PARIS DURING FASHION WEEK
Tiger Beer is launching the world's first puffer jacket made with a beer-powered cooling system that can cool the human body down by up to 5° Celsius in the sun
Having cooled people down with refreshing beer in Asia for over 90 years, now Tiger Beer is expanding its cooling range with wearable tech, the TIGER Summer Puffer
Inspired by puffers becoming Gen Z's hottest obsessions across the world, the TIGER Summer Puffer defies the odds and is made to be worn in tropical heat
Known for her revolutionary outerwear in London, designer Izzy Du created the TIGER Summer Puffer which will debut in Paris during Paris Fashion Week, 1st -3rd October 2023
The TIGER Summer Puffer will be made available for next year's spring and summer
Tiger Beer announced its collaboration with fashion designer, Izzy Du, known for revolutionising outerwear in London, to create the world's first puffer jacket with a beer-powered cooling system made specifically to keep you cool in tropical heat. So, finally people all over the world, regardless of the weather, can enjoy this fashion staple!
Puffers have become one of Gen Z's hottest obsessions across the world, inspired by celeb-approved styles and iconic runway looks – but in Tiger Beer's home region of Asia, the tropical heat means this wardrobe must-have is a no-go.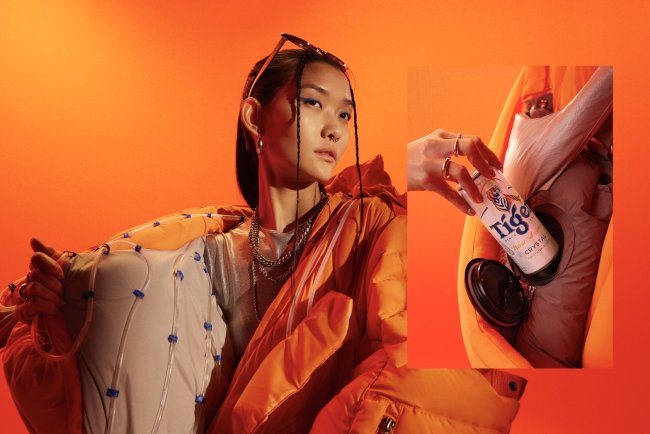 In partnership with a brand known for defying the odds, Izzy Du and Japanese tech firm, Whatever Co., were challenged to create the TIGER Summer Puffer; a winter statement jacket that can be worn in any climate, including tropical locations. In response, the pair have conjured up a big, bold and bright
orange coloured puffer, paying homage to a tiger, and featuring the first-of-its-kind beer-powered cooling system, fuelled by ice-cold Tiger Beer.
The innovative cooling system uses the cold beer to chill water which is then pumped around the wearer's body via a network of tubes. These tubes make contact with key points where the arteries are closest to the skin, cooling the body down by up to 5° Celsius in the sun. Now, anyone and everyone can feel and look cool regardless of their location!
Having cooled people down by brewing refreshing beer in Asia since 1932, now Tiger Beer is expanding its cooling range by making a limited run of this must-have wearable fashion tech available for the Summer and Spring collections.
Chinese Canadian designer, Izzy Du has been making waves in the world of puffer fashion with voluminous forms and unrepeatable originality. It is her bold vision and unique creative aesthetic that makes her a perfect fit for Tiger Beer, a brand that believes in pushing the boundaries of what is possible and attempting the unthinkable.
Speaking about the collaboration, Du said, "Making a puffer for the summer is an external expression of how refreshing and cool it feels to drink a Tiger. I started with the feeling of opening an ice-cold can of beer, and playing with the colours of Tiger Beer, before imbuing the aesthetics of the puffer with a new function."
Izzy Du will be showcasing her current collection at a pop-up in Paris from the 1st to the 3rd of October 2023 during Paris Fashion Week. Here, fashion enthusiasts can discover the TIGER Summer Puffer's vibrant, confident orange hue, unmistakable silhouette and cooling capabilities. With the hood drawing inspiration from tiger ears and featuring added fang details, the subtle striped pattern effortlessly creates a fierce look.
After its debut in Paris, Tiger Beer is bringing the TIGER Summer Puffer to Asia for ZoukOut, Asia's longest-running dance music festival, taking place in the tropical heat of Singapore in December 2023. This festival experience will provide you with the opportunity to witness the TIGER Summer Puffer in action, flawlessly combining fashion with music in a truly exceptional manner.
Masashi Kawamura, Chief Technology Officer of Whatever Co., the creative studio that engineered the tech behind the prototype, said, "Inspired by the same tech that keeps astronauts cool in extreme temperatures, we tried a variety of cooling system designs, each making the jacket more effective at keeping the wearer cool for as long as possible. We tested various tube placements, tube materials, water tank designs and electronic wiring before landing on the final mechanism. We even had a trial run where the jacket became too cold to wear, and we had to tune it down to get it to the right temperature."
Sean O'Donnell, Global Brand Director at Tiger Beer, said, "At Tiger we have been defying the odds since 1932 by brewing beer in tropical weather when others said it couldn't be done, the combination of working with Izzy Du, a progressive designer, whose bold jacket – fit for any runway or fashion moment, especially during Paris Fashion Week – with new never seen beer-powered technology really embodies what Tiger believes in. This sets the TIGER Summer Puffer apart from anything else on the market and we can't wait for its debut in October!"
The TIGER Summer Puffer statement jacket, featuring the world's first beer-powered cooling system, can be experienced first-hand in Paris at Izzy Du's pop-up, during Paris Fashion Week. After then, those wishing to experience the most sought-after Gen Z obsession will have to wait until the spring 2024. Fans can also learn more about the TIGER Summer Puffer by watching the Launch Film or going Behind-The-Scenes of its creation, along with the Explainer video.
Please refer to the link here for all assets and follow us on @tigerbeer and the hashtags: #TigerSummerPuffer and #UncageYourTiger.